Key Facts
Walk-in patients

74,519

Camp patients

51,031

Total

125,550

Surgeries on walk-in patients

4,080

Surgeries on camp patients

16,024

Total surgeries

20,104

Refractive error corrected on walk-in patients

16,925

Refractive error corrected on camp patients

10,946

Total refractive error corrected

27,871

Community outreach camps held

305
Figures for FY 2019-20
IGEHRC Amethi was the first step from IGEHRC to reach out to the needy with quality eye care. It began operations in Munshiganj, Amethi, in December 2005 as a facility designed to be at the forefront of ophthalmologic care.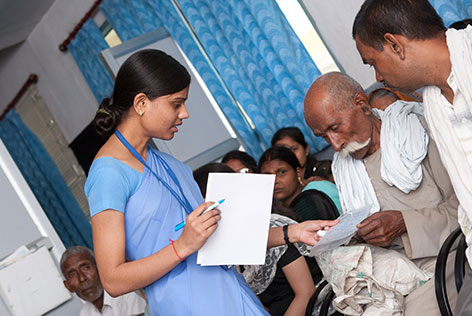 This secondary level facility has seen huge demand for its services since inception and has expanded rapidly as a result. Some of the challenges that the hospital has faced over the years are illiteracy/ignorance leading to lack of awareness of eye care, traditional beliefs and low compliance by patients. Not only has it succeeded in creating awareness of eye care in the population that it serves but also helped to change erroneous and age old perceptions about eye care. Most of all, in an area that has remained unserved for centuries, it has created a willingness to be cured within the community. Today, the people of the seven districts it serves, repose unfailing faith in IGEHRC Amethi's facilities, services and staff.
Covering an area of approximately 30,000 square feet, IGEHRC Amethi started out as a 50-bed hospital but today has two wards with 158-beds. Seventy-five beds are reserved for subsidised/poor patients. It has a microscope to table ratio of 3:5. Its two Operation Theatres are equipped with three state-of-the-art microscopes and four operating tables. Advanced equipment for cataract, glaucoma and vetrio retina investigation, diagnosis and surgery available at this facility are on par with the best in the world.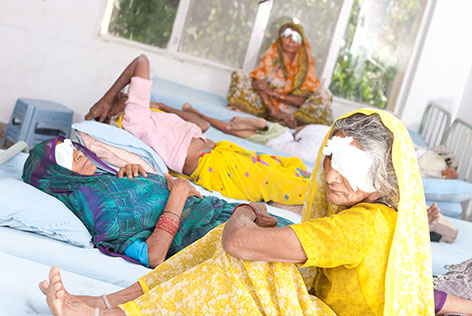 Since inception IGEHRC Amethi has reached to about a million persons and operated about 125,000 patients. But more than the numbers, this hospital is the only such service provider reaching out to 23 million people from seven rural districts of UP: Sultanpur, Pratapgarh, Amethi, Raebareli, Faizabad, Jaunpur and Barabanki.