Key Facts
Community Resource Persons trained by RGMVP:
203

women volunteers as master trainers in various activities

4,470

women leaders at the BO level

1,421

health volunteers at the VO level

5,075

Meeting Sakhis to support SHGs in their meetings and provide health messages

124,640

women volunteers on institution building and health

410,310

SHG members on health-related subjects
As on 31 March 2020
RGMVP recognises that community institutions are only as strong as the handholding and facilitation support given to them. Thus, by equipping passionate women with the skills to become trainers, capable of educating their respective groups, it ensures coverage and uptake of key behaviour changes.
One of the key aspects of community institution building is the emphasis on building social capital and transforming institutions into social infrastructure. There exists a wide information gap within rural communities, especially with regard to crucial issues such as health care and education. The community members, SHGs and their federations can play a significant role in bridging this gap. Furthermore, the creation of a support network from within the community itself acts as a primary means of building social capital.
The most important step in this direction has been the identification of Community Resource Persons (CRPs) to scale programme interventions. CRPs mobilise to take the vision of the programme to the remaining unorganised poor. In fact, every CRP has her own SHG success story that acts as inspiration to non-members and motivates them to build their own, or join existing, organisations. The CRP strategy is extremely effective for social mobilisation as CRPs speak from personal experience; at times this has a life-changing impact on the women they engage with. These CRPs are built into the organisational structure of the programme through the Community Resource Development Institutions (CRDIs), which work closely with the programme management team.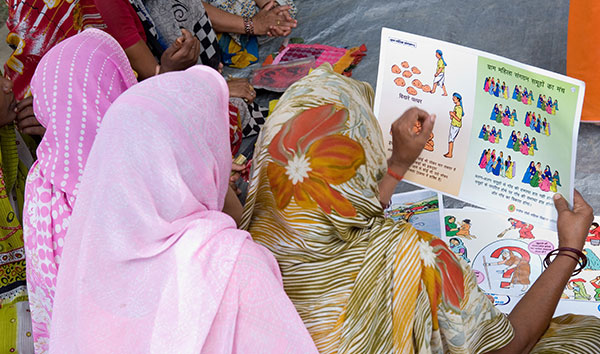 RGMVP also nurtures, at the SHG and VO levels, four types of activists or sakhis. Sakhis are women volunteers from the SHGs who are driven to disrupt the power, gender, and poverty dynamics and, thus, volunteer to become trainers and mentors to others on specific topic areas. Each type of sakhi has been created to address one dimension of the barriers women face in overcoming poverty and inequality.
Samooh (SHG) Sakhis: provide support on overall SHG community building
Bank Sakhis: provide support on financial inclusion
Sawsthya (Health) Sakhis: provide support on health awareness and practices
Ajeevika (Livelihoods) Sakhis: provide support on agriculture practices
These sakhis and CRPs are provided with training on aspects such as SHG mobilisation and functioning, financial inclusion, maternal and child health, sanitation and nutrition, agriculture, composting and diary practices and political action and government entitlements. In addition, RGMVP organises internal exposure trips to other regions where RGMVP works as well as external trips to other states where RGMP's partners work. These trips build the members' knowledge of best practices, expose them to new perspectives, develop their independence and confidence, and foster solidarity between resource persons.