The IGEHRC hospital network includes: two secondary care hospitals at Munshiganj in Amethi (Uttar Pradesh) and Sohna in Gurugram (Haryana) and two tertiary care speciality hospital, one in in Lucknow (Uttar Pradesh) and the other in Gurugram (Haryana)
Indira Gandhi Eye Hospital and Research Centre (IGEHRC), the Trust's eye care programme, has a network of hospitals dedicated to eliminating preventable blindness and improving the quality of life by providing comprehensive, quality eye care in an affordable and compassionate way, especially in North India. The main target population is marginalised sections of the society such as the rural, socio-economically weaker population, women, etc.
The ever expanding network of IGEHRC hospitals includes: two secondary care hospitals at Munshiganj in Amethi (Uttar Pradesh) and Sohna in Gurugram (Haryana) and a tertiary care speciality hospital in Lucknow (Uttar Pradesh). These hospitals, along with associated vision centres, cater to about 1,500 patients daily. A super-speciality research and training based hospital has begun operations recently in Gurugram, also in Haryana.
IGEHRC's uniquely successful service model is based on eye care services that are:
High volume
Comprehensive
Affordable and accessible
Equitable
Beneficiary centric and compassionate
High volumes are achieved through extensive outreach approaches, overcoming the various barriers to eye care service uptake in the community such as distance, finance or ignorance. IGEHRC provides a range of preventive, promotive and curative services. Primary, secondary and tertiary eye care services are integrated into the eye care delivery system so that beneficiaries access the much-required services closest to their doorsteps.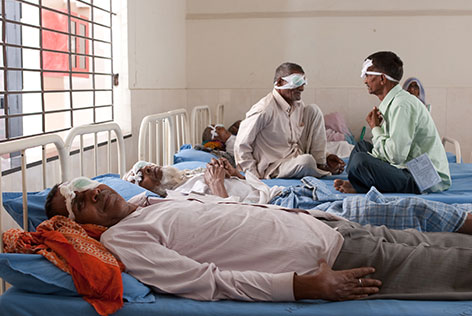 IGEHRC performs 80 percent of its surgeries free or at nominal costs. In paid cases, user charges are based on affordability criteria of the patients with a commitment to provide the highest quality of care. Even then, the charges are significantly lower than the market rates.
All services are designed to be patient centric and utmost care is given to provide these services with dignity. Sustainability is achieved through high volume, the strategy of cross subsidisation and an emphasis on efficient utilisation of all available resources.
The huge volumes of patients treated and sight-restoring surgeries performed since inception in 2005 makes IGEHRC one of the largest providers of quality eye care in North India, catering to central and eastern Uttar Pradesh and south Haryana.
The hospital was ranked 13th Best Hospital in Ophthalmology for the year 2014 according to The Week- Nielsen survey. IGEHRC is the only non-governmental hospital with a model that incorporates community work and cross subsidy in North India.
IGEHRC is focused on filling the gap between need and availability of advanced eye care which was previously available in the metros and large cities only.