Key Facts
Number of camps organised:

824

Number of patients screened:

119,030

Number of surgeries performed:

30,296
Figures for 2019-20
Distance and affordability together with a lack of awareness are the main deterrents in people not being able to avail of eye care services even when the treatment is available. At IGEHRC, efforts are continually made to reach out to marginalised sections of the society including rural, socio-economically weaker sections, and women that lack access to quality eye care services, through a system of outreach camps where patients are given primary eye care, screened and sent to the base hospitals for further treatment, including surgery.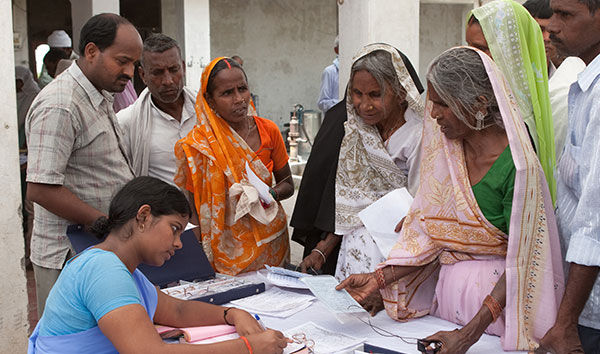 The outreach programme aims to provide heavily subsidised curative, preventive and rehabilitative care to the community along with information, education and communication (IEC) programmes to boost service delivery to potential patients in the community. Collaboration with and support of community leaders as well as non-governmental and community-based organisations are important aspects of the outreach programme framework.
Local communities, through community mobilisers, play a crucial role in mobilising the communities and bringing in the patients requiring eye care. Embedded in the same communities, these community mobilisers are very active in referring patients who need immediate eye care treatment. The strategy enables IGEHRC to reach out to and provide treatment at a subsidised cost to those who are unable to access or afford eye care.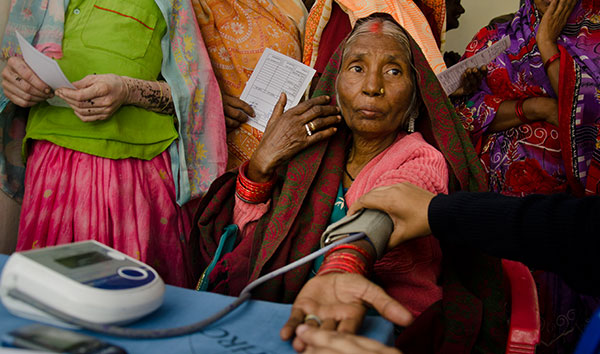 Each outreach eye camp follows a well-established procedure:
The camp sponsor is responsible for publicity/promotion of the camp-through word of mouth, poster/banners, loudspeakers, volunteers-in nearby villages and remote areas to ensure that the community is informed of the date and venue of the camp. The space, furniture, and basic organisation are also the responsibility of the sponsor.
IGEHRC sends 10 personnel to each camp including a doctor, paramedical and administrative staff which is aided by the local volunteers.
The patient flow followed at each camp is: patient registration, preliminary vision testing, preliminary diagnostic examination, intraocular pressure and tear duct function test, refraction, final examination by the doctor, and patient counselling and admission of people who need further attention.
Transportation of the admitted patients to either IGEHRC Lucknow or Amethi in the hospital vehicle for treatment
Treatment at the hospital and transportation of patients back home
Review of treated patients at the next camp held at the same location